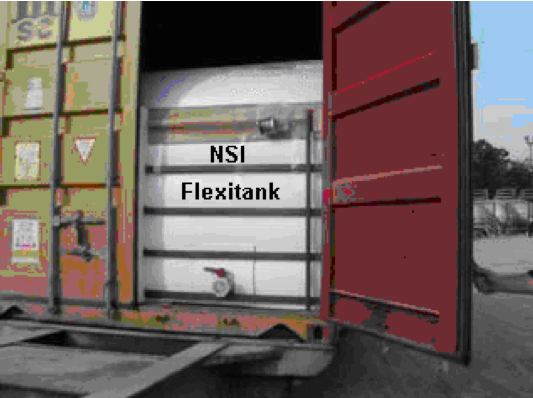 Our Flexitanks transports bulk liquids in containers safely and securely. Our Flexitank can be summarized simply: it is strong, it is safe, and it is versatile. Our lightweight Flexitank insulates well, it is resistant against aggressive substances and damage, it is virtually unbreakable, and it spares the environment. 
Our Flexitank is a multi-layer bulk liquid liner which is fitted into a standard 20ft dry goods container with a restraining bulkhead, which transforms it into a bulk liquid container (for non-hazardous, free flowing bulk liquids).

• One-Way and Environmentally Friendly
• No Cleaning and No Contamination
• FDA and BGA Approved
• Up to 24,000 Liters (6,000 Gallons) Capacity
• Ozone Sterilized Available Upon Request
• Product Supply and Quality under our Control and Supervision


Most Flexitanks are top loading, with a fill/empty hose on top and a 2 inch male cam-lock valve fitted to the hose. Nier Systems Inc. can supply Flexitank with a bottom loading option (bottom discharge), which facilitates quick load and discharge through a 2 inch male cam-lock valve for clients who prefer to use this system.


---
PRODUCTS APPROVED FOR CARRIAGE IN OUR FLEXITANK:


FOOD PRODUCTS

Flat Beer
Animal Oils
Beer Syrup Concentrate
Caramel Coloring
Egg - Liquid
Fruit juices
Glucose
Jam
Malt Extract
Spring Water
Milk
Water
Sauces
Bulk Liquids
Sugar Syrup
Vegetable Oils
Wine
Corn Oil
Olive Oil
Palm Oil
Sorbitol
Dark Soy Sauce
Fish Sauce
Optical Brightener



INDUSTRIAL/CHEMICALS

Lube Oils
Transformer Oils
White Oils
Silicate Binder
Natural Latex
Synthetic Latex
QUAB
Polyols
Glycol
Ammonium Thio-sulphate
Base Oils
Cleaning Liquids
Detergents
Glycerin
Adhesive
Emulsions
Water Based Paints
Hair Shampoos/Conditioners
Mineral Oils
Lanolin
Plasticisers (Limited)
Tall Oil Fatty Acid
Pharmaceutical Ingredients
Ti-Pure Rutile Paper Slurry